Funkcje
Najnowsza wersja (2023.11)
Prawdziwe ogrzewanie konwekcyjne
Komora grzewcza ze szkła kwarcowego (pojemność od 0,2 g do 0,3 g)
Dwa tryby ogrzewania: sesji i na żądanie
Nagrzewanie w ciągu 20 sekund
Duży zakres temperatur (od 100 °C do 220 °C)
Kolorowy wyświetlacz OLED
Wytrzymała obudowa z anodyzowanego aluminium
Wymienny akumulator 18650 o pojemności 3200 mAh
Waporyzator XLux Roffu – dla kogo?
Odkryj bogactwo smaków swojego suszu dzięki zastosowaniu specjalistycznego ogrzewania konwekcyjnego w XLux Roffu. Ogrzewanie konwekcyjne delikatnie podgrzewa zioła gorącym powietrzem, zachowując ich czystość i maksymalizując doznania smakowe.
Roffu oferuje dostosowanie waporyzacji do swoich preferencji dzięki trybom ogrzewania sesyjnego i na żądanie. Tryb sesji wytwarza ciepło w ciągłych odstępach od 3 do 6 minut, zapewniając relaksującą przyjemność. Tryb na żądanie umożliwia szybkie zaciągnięcia (od 1 do 2), gdy masz mniej czasu. Oba tryby osiągają temperaturę waporyzacji w około 20 sekund.
Choć Roffu jest urządzeniem wyspecjalizowanym w waporyzacji aromatycznego suszu, jego priorytetem jest poręczność i przystępna cena. Waga 166 g zapewnia idealną równowagę między wytrzymałą, a jednocześnie lekką konstrukcją. Roffu to ekonomiczna opcja dla każdego użytkownika, który ceni sobie precyzyjne ogrzewanie konwekcyjne w przenośnym waporyzatorze.
Koncentracja na smaku
Doświadcz czystej, aromatycznej pary dzięki wykonanej ze szkła kwarcowego komorze grzewczej Roffu. Komora ta wygodnie mieści od 0,2 do 0,3 grama ziół, umożliwiając dłuższe sesje waporyzacji bez konieczności ciągłego uzupełniania.
Roffu wykorzystuje ogrzewanie konwekcyjne, które podgrzewa zioła za pomocą gorącego powietrza, a nie bezpośredniego kontaktu. Wytwarza to czystą parę, która doskonale oddaje naturalny smak ziół.
Dzięki szerokiemu zakresowi temperatur od 100 °C do 220 °C, możesz znaleźć ustawienie ciepła, aby w pełni wyekstrahować swoje zioła.
Połączenie przestronnej komory kwarcowej, precyzyjnego ogrzewania konwekcyjnego i konfigurowalnej regulacji temperatury oznacza, że Roffu pozwala w pełni cieszyć się waporyzowanym suszem.
Tryb sesji i tryb na żądanie
XLux Roffu oferuje dużą elastyczność dzięki dwóm różnym trybom ogrzewania:
Tryb sesji jest przeznaczony do relaksu – stale ogrzewa komorę, aby zapewnić parę w odstępie 3-6 minut.
Tryb na żądanie zwiększa natomiast mobilność i dyskrecję waporyzatora Roffu - nagrzewa się on natychmiast po naciśnięciu przycisku, umożliwiając szybkie smakowanie pary bez marnowania suszu.
Poczuj różnicę
Teraz możesz delektować się prawdziwym smakiem swoich ziół – wszystko dzięki magnetycznie unoszonemu ustnikowi XLux Roffu wykonanemu z dwutlenku cyrkonu.
Ustnik ten zapewnia czysty smak, a innowacyjna ścieżka chłodzenia gwarantuje parę, która pozostaje niezmiennie chłodna.
Wygodny chwyt i komfortowe użytkowanie
Kieszonkowa konstrukcja Roffu o szerokości zaledwie 2,5 cm umożliwia łatwą obsługę urządzenia i jego przenoszenie.
Kolorowy wyświetlacz OLED o przekątnej 0,96 cala zapewnia podgląd w czasie rzeczywistym, a dotykowy interfejs i intuicyjne elementy sterujące sprawiają, że regulacja temperatury jest szybka i łatwa.
Niezależnie od tego, czy jesteś doświadczonym użytkownikiem waporyzatorów, czy dopiero zaczynasz swoją przygodę z waporyzacją, Roffu zapewnia bezproblemową obsługę. Jako bonus, dostępne jest również menu "Puff Data", w którym można zobaczyć statystyki dotyczące swoich nawyków waporyzacji.
Optymalizacja pod kątem wydajności
XLux Roffu jest wyposażony w akumulator 18650 o dużej pojemności 3200 mAh, który zapewnia dłuższy czas waporyzacji między ładowaniami. Akumulator można wygodnie ładować za pośrednictwem złącza USB-C.
Zalecamy zakup dodatkowych akumulatorów Molicel M35A 3500 mAh i ładowarki Xtar X2, aby móc bez końca korzystać z waporyzatora.
Wysokiej jakości materiały
Dzięki konstrukcji z anodyzowanego aluminium o wadze 166 g, Roffu nie tylko elegancko wygląda, ale także jest bardzo wytrzymały.
Waporyzator został zaprojektowany tak, aby wytrzymać rygory codziennego użytkowania. Urządzenie jest lekkie, łatwo się je przenosi i charakteryzuje się solidną konstrukcją oraz długą żywotnością. 
Jak korzystać z XLux Roffu
Oto podstawowe kroki, aby rozpocząć korzystanie z XLux Roffu.
Zdejmij ustnik.
Włóż drobno zmielony susz do komory.
Ponownie zamocuj ustnik.
Kliknij przycisk zasilania 5 razy, aby włączyć urządzenie.
Wybierz temperaturę.
Poczekaj, aż Roffu osiągnie ustawioną temperaturę (około 20 sekund).
Weź powolny, miarowy wdech.
Delektuj się smaczną parą!
Wyłącz Roffu, naciskając przycisk 5 razy.
Użyj wbudowanego skrobaka do łatwego czyszczenia i konserwacji komory.
Aby aktywować tryb na żądanie, wystarczy przytrzymać przycisk w górę i w dół przez 2 sekundy. Po włączeniu trybu na żądanie Roffu będzie nagrzewać się tylko po naciśnięciu przycisku zasilania.
Przede wszystkim bezpieczeństwo
W przypadku XLux Roffu bezpieczeństwo jest zawsze priorytetem.
Powiadomienie w postaci wibracji ostrzega o zmianach, a wbudowany timer sesji zapewnia automatyczne wyłączenie urządzenia po określonym czasie, oszczędzając energię i zwiększając bezpieczeństwo.
Polecane akcesoria
Kapsułki dozujące: Kapsułki sprawiają, że waporyzacja z XLux Roffu jest jeszcze łatwiejsza. Zapakuj kapsułki na szybkie sesje i skorzystaj z dodatkowej funkcji, jaką jest utrzymanie komory grzewczej w czystości. Mniejszy bezpośredni kontakt z suszem oznacza mniej pozostałości w urządzeniu i mniej czyszczenia.
Molicel M35A - Bateria 3500 mAh 18650: Dzięki baterii o dużej pojemności (300 mAh więcej niż oryginalna bateria Roffu) możesz waporyzować dłużej między ładowaniami.
Ponadto wygoda wymiany baterii zapewnia, że nigdy nie zabraknie Ci mocy dla zasilania urządzenia – nawet podczas długich sesji lub w podróży.
Xtar X2 - Ładowarka baterii: Zewnętrzna ładowarka może ładować do 4 akumulatorów jednocześnie, pozwalając na to, aby zawsze mieć pod ręką świeży zestaw. Korzystanie z zewnętrznej ładowarki jest zalecane, ponieważ może wydłużyć żywotność baterii.
Metalowa komora: Skorzystaj z możliwości wymiany komory grzewczej Roffu i zamień ją na komorę metalową – dzięki temu waporyzator nagrzewa się szybciej, a para będzie gęstsza.
Adapter do fajki wodnej: Spraw, aby Twoje doznania z waporyzacji były jeszcze lepsze, podłączając Roffu do fajki wodnej. Adapter pomaga schłodzić parę, dzięki czemu każde zaciągnięcie jest płynniejsze i przyjemniejsze.
Silikonowe etui: Ochroń swój waporyzator Roffu za pomocą dopasowanego etui. Nie tylko chroni ono Roffu przed przypadkowymi upadkami, ale także dodaje urządzeniu stylowego wyglądu.
Czyszczenie XLux Roffu
Aby dokładnie wyczyścić XLux Roffu, wykonaj następujące proste czynności:
Wyczyść pozostałości z komory grzewczej za pomocą szczoteczki, a następnie zanurz w alkoholu na 15 minut i wytrzyj.
Przetrzyj wnętrze ustnika, a następnie przetrzyj go wilgotną chusteczką.
Umyj silikon komory przepływu powietrza wodą z dodatkiem płynu. Namocz ceramikę w alkoholu przez 15 minut i wytrzyj.
Po zakończeniu czyszczenia należy uruchomić urządzenie w maksymalnej temperaturze na 2 minuty, aby zapewnić odparowanie wszelkich pozostałości.
Gwarancja
Wszystkie waporyzatory XLux Roffu od XVape sprzedawane przez MagicVaporizers, autoryzowanego dystrybutora XVape, są w pełni autentyczne i objęte są roczną gwarancją na urządzenie oraz 6-miesięczną gwarancją na baterię.
Instrukcja obsługi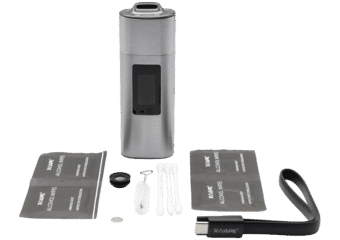 Zawartość
Waporyzator XLux Roffu
Kabel ładujący
Szczoteczka do czyszczenia (wyciorek)
Sitka (2 szt.)
O-ringi (2 szt.)
Patyczki bawełniane (3 szt.)
Chusteczki nasączone alkoholem (2 szt.)
Instrukcja obsługi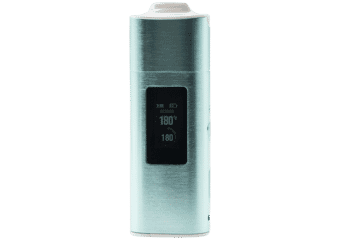 Parametry
Więcej informacji

| | |
| --- | --- |
| Wymiary | 4 cm × 2,5 cm × 11,5 cm |
| Waga: | 166 g |
| Podgrzewanie: | Konwekcyjne |
| Czas nagrzewania | 20 sekund |
| Źródło zasilania: | Bateria (3200 mAh) |
| Temperatura: | 100°C do 220°C |
| Producent: | XMax / XVape |
| Gwarancja: | 1 rok |
| Kraj producenta: | Chiny |
XMax Starry V4

Krótki czas nagrzewania (30 sekund)
Regulowany przepływ powietrza
Precyzyjna kontrola temperatury (od 100 °C do 240 °C)

XMax V3 Pro

Czas nagrzewania: 15 sekund
Ogrzewanie czysto konwekcyjne
Zakres temperatur: od 100 °C do 220 °C

XVape Fog Pro

Nagrzewa się do 180°C w zaledwie 15 sekund
Czyste ogrzewanie konwekcyjne
Wymienna bateria 3200 mAh
Napisz własną opinię o Waporyzator XLux Roffu od XVape