Cechy
Najnowsza wersja! (2023.11)
Zewnętrzna obudowa z piaskowanego aluminium
Hermetyczna ścieżka przepływu pary z cyrkonu i szkła
Wyłożona szkłem grzałka o pojemności 0,5g
Tryby "Smart Path", Precision i Boost
Temperatura podgrzewania z dokładnością do 1°C (0°C do 221°C)
Czas nagrzewania: 30 sekund
Pełne naładowanie w mniej niż 2 godziny (ładowarka na USB-C)
Bateria 3000 mAh (wyjmowana), która może pracować do 2 godzin przy ciągłym użytkowaniu
5 lat gwarancji
DaVinci IQC - dla kogo?
Davinci IQC jest przeznaczony dla osób, które chcą mieć pełną kontrolę nad swoimi sesjami waporyzacji. Sprzęt posiada wiele cech, które czynią go idealnym do eksperymentowania i doświadczania różnych smaków oparów. Są to między innymi cyrkonowa komora smakowa, różne tryby ogrzewania i duży zakres temperatur. Tryb "Precision" ułatwia także ustawienie temperatury podgrzewania z dokładnością do 1 °C (od 0 °C do 221 °C) - i to wszystko bez najmniejszego problemu!
Uszczelniona ścieżka przepływu oparów - cyrkon/szkło
Najnowszą innowacją DaVinci jest ścieżka przepływu pary, która została uszczelniona cyrkonem i szkłem. Oznacza to, że żaden metal ani plastik nie wejdzie w kontakt z Twoją parą, co gwarantuje, że doświadczysz z modelem IQC doświadczysz wyłącznie czystych i smacznych sesji!
Wyjątkowy smak
Podgrzewacz DaVinci jest jak żaden inny. Wyłożony szkłem ceramicznym, posiada system kontroli temperatury z dokładnością do 1 stopnia. Oferuje on także użytkownikowi tryb "Precise" zapewniający najwyższą kontrolę temperatury oraz tryb "Smart Path", który zapewnia łatwy i praktyczny sposób eksperymentowania z ustawionymi wcześniej wzrostami temperatury.
Wydajna i wyjmowana bateria
DaVinci IQC wyposażony jest w baterię 18650, 3000 mAh, która pozwala urządzeniu na ciągłą pracę nawet do 2 godzin. Czyni go to idealnym towarzyszem dni spędzanych na świeżym powietrzu lub kompanem długich podróży bez dostępu do gniazdek elektrycznych.
Bateria można wymienić, więc jeśli zamierzasz być poza domem przez jakiś czas, warto zaopatrzyć się w baterie zapasowe - nigdy nie wiadomo, kiedy się przydadzą!
Możesz użyć przycisków w górę i w dół, aby zobaczyć, ile mocy baterii pozostało Twojemu waporyzatorowi. Sprzęt będzie wibrować, gdy pozostanie tylko 10% baterii.
Możliwość podłączenia do sprzętów na wodę
IQC jest wyposażony w adapter do fajki wodnej, który można podłączyć do dowolnej fajki 10 mm w celu uzyskania jeszcze gładszego i czystszego waporyzacyjnego doświadczenia. Przepuszczenie pary przez wodę pozwala na jej schłodzenie i łatwiejszą konsumpcję.
3 tryby kontroli temperatury
"Smart Path"
Dzięki trybowi "Smart Path", możesz korzystać z czterech różnych ustawień, które będą stopniowo zwiększać temperaturę w ceramicznej grzałce Twojego urządzenia. Pierwsze ustawienie nosi nazwę "Flavour" i zaczyna się od 176°C, a kończy na 188°C po 8 minutach.
Do wyboru są jeszcze trzy inne tryby: Mind, Body i Rest, które zaczynają się od różnych temperatur i kończą 8 minut później temperaturą wyższą o 12°C.
Precision
Tryb ten pozwala na kontrolę temperatury z dokładnością do jednego stopnia. Aby przejść do trybu Precise, kliknij przycisk zasilania, który pokaże aktualną temperaturę, a następnie dostosuj ją za pomocą strzałek w górę i w dół, aby wybrać preferowaną temperaturę.
Boost
Naciśnięcie czerwonego przycisku zasilania podczas sesji pozwoli Ci na podniesienie temperatury do 210 °C. Przytrzymaj przycisk tak długo, jak chcesz i po zakończeniu naciśnij którąś ze strzałek, aby Twój waporyzator powrócił z trybu Boost do ustawionej wcześniej temperatury.
Ładowanie przez USB-C
Naładuj swój waporyzator w zaledwie 2 godziny dzięki ładowaniu przez USB-C. Dodatkowo, jeśli jesteś w podróży i chcesz szybko naładować swój telefon, funkcja odwrotnego ładowania jest idealna właśnie na taką okazję!
Aplikacja rozszerzająca możliwości
Najnowszą innowacją DaVinci jest aplikacja internetowa dla systemów operacyjnych iOS i Android, która umożliwia sterowanie IQC nie tylko za pomocą smartfonów, ale także tabletów i komputerów stacjonarnych.
Dzięki tej aplikacji można również tworzyć własne "Inteligentne ścieżki" (Smarth Paths), aby uprościć sesje IQC DaVinci poprzez tworzenie, nazywanie i zapisywanie automatycznych regulacji temperatury.
Jaka jest różnica pomiędzy DaVinci IQC and IQ2?
IQ2 i IQC to bardzo podobne waporyzatory. Główne różnice polegają na tym, że IQC ładowany jest przez USB-C, a także posiada ustnik wykonany z delikatnego materiału, z dołączoną pokrywką komory smakowej i adapterem do fajki wodnej. Brakuje mu jednak funkcji śledzenia dawki oraz technologii AirDial, którą posiada DaVinci IQ2.
Gwarancja
Wszystkie waporyzatory DaVinci IQC sprzedawane przez MagicVaporizers - autoryzowanego dystrybutora DaVinci - są całkowicie oryginalne i objęte są 5-letnią gwarancją na urządzenie oraz roczną gwarancją na baterię.
Instrukcja obsługi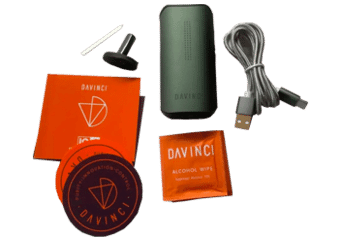 Zawartość
Waporyzator DaVinci IQC
Bateria
Adapter do bonga (10 mm)
Narzędzie do dozowania
Szczotka do czyszczenia
Kabel USB-A do USB-C (90 cm)
Ściereczki do czyszczenia nawilżane alkoholem (3)
Instrukcja obsługi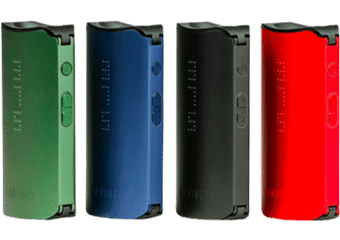 Parametry
Więcej informacji

| | |
| --- | --- |
| Wymiary | 4,4 cm × 2,5 cm × 9,2 cm |
| Waga: | 147 g |
| Podgrzewanie: | Kondukcja |
| Czas nagrzewania | 30 sekund |
| Źródło zasilania: | Bateria (3000 mAh) |
| Temperatura: | 0 °C do 221 °C |
| Producent: | DaVinci |
| Gwarancja: | 5 lat |
| Kraj producenta: | Chiny |
DaVinci IQ2

Pięć dostosowywalnych poziomów przepływu powietrza
Nagrzewa się w mniej niż minutę
Innowacyjna kontrola dawkowania

DaVinci MIQRO-C

3 tryby: Precision, Smart Path i Boost
Dostosowywalny rozmiar komory (0,1 – 0,25 g)
Wymienna bateria (900 mAh)
Napisz własną opinię o DaVinci IQC