Cechy
Najnowsza wersja (2023.11)
Mocniejsza i szybciej nagrzewająca się grzałka ceramiczna
Czas nagrzewania poniżej minuty
Precyzyjna regulacja temperatury z dokładnością do 1 stopnia (w zakresie od 50 do 220°C)
Otwarty przepływ powietrza zapewniający komfortową konsumpcję pary
Możliwość dostosowania ustawień użytkowych
Ergonomiczne rozmieszczenie przycisków
Wyjmowana bateria 26650
Szybkie ładowanie przez USB-C
Może być używany podczas ładowania
Dołączony adapter do fajki wodnej
Arizer Air Max - dla kogo?
Arizer Air Max to idealny waporyzator dla tych, którzy pragną relaksujących, bardziej aromatycznych doznań podczas waporyzacji suszu. Mimo że Air Max jest w stanie wytworzyć gęstą parę w wyższych temperaturach, jego główną zaletą jest zdolność do maksymalnej ekstrakcji suszu i wytwarzania smacznej pary przez całą sesję.
Dzięki mocnej baterii, ceramicznej grzałce i dołączonemu adapterowi do fajki wodnej łatwo jest eksperymentować z akcesoriami takimi jak bongo czy bubbler, co jest dużym plusem urządzenia. Jeśli jednak lubisz waporyzować koncentraty, takie jak olej czy wosk, Air Max nie będzie najlepszym rozwiązaniem, ponieważ umożliwia jedynie waporyzację suszu. Niemniej, jest to świetny przenośny waporyzator dla tych, którzy cenią smak i wygodę ponad gęste opary.
Ulepszony element grzewczy
Nowy Arizer Air Max jest wyposażony w zaawansowaną, szybko nagrzewającą się grzałkę ceramiczną, która jest mocniejsza i szybciej się nagrzewa niż jej poprzedniczka. Unowocześniony system grzewczy jest w stanie dotrzymać tempa nawet wtedy, gdy używasz waporyzatora z fajkami wodnymi. Sprzęt potrafi osiągnąć wymaganą temperaturę podgrzewania w mniej niż minutę.
Aby zmaksymalizować ekstrakcję ziół, wykorzystuje on ogrzewanie hybrydowe, które polega na jednoczesnym ogrzewaniu kondukcyjnym i konwekcyjnym. Ogrzewanie kondukcyjne ogrzewa susz poprzez bezpośredni kontakt, podczas gdy ogrzewanie konwekcyjne ogrzewa je poprzez cyrkulację powietrza w waporyzowanym materiale i wokół niego.
Pełna kontrola temperatury
Ustaw idealną temperaturę dla uzyskania maksymalnego smaku lub dostosuj ją w trakcie sesji, aby wydobyć maksimum potencjału ze swojego suszu. Arizer Air Max posiada precyzyjną regulację temperatury o dokładności 1 stopnia i imponujący zakres od 50°C do 220°C. Jeśli zależy Ci na smaku, wybierz temperaturę od 180°C do 200°C, a jeśli chcesz uzyskać mocniejsze efekty, wybierz nieco wyższe wartości - około 200°C do 220°C.
Sygnowane szklane rurki
Szklane rurki Arizer świetnie sprawdzają się przy utrzymywaniu czystej i aromatycznej pary - jednak jedną z ich najlepszych cech jest to, że dzięki nim ładowanie komory grzewczej nie jest tak skomplikowane. Zamiast nabierać susz bezpośrednio do komory, wystarczy przekręcić rurkę w kierunku susz, aby go zebrać! Oznacza to również, że w razie potrzeby czyszczenie staje się znacznie łatwiejsze. Wystarczy namoczyć rurki w alkoholu izopropylowym przez godzinę lub dwie, a następnie wypłukać je w gorącej wodzie, aż będą czyste i gotowe do użycia podczas kolejnej sesji.
Mniej ograniczony przepływ powietrza
Podczas gdy inne przenośne waporyzatory firmy Arizer były krytykowane za zbyt trudne pobieranie pary, w Arizer Air Max łatwo zauważyć duże usprawnienia w przepływie powietrza. Ulepszony element grzewczy z łatwością nadąża za szybkim zaciąganiem, a użytkownik może teraz wygodnie cieszyć się smaczną parą, którą wytwarza urządzenie.
Jeśli lubisz szybkie zaciąganie się, zalecamy zakup długiej szklanej rurki, ponieważ para nie ma wystarczająco dużo miejsca, aby schłodzić się podczas przepływu w najwyższych temperaturach przez dołączone do zestawu krótkie szklane rurki.
Większe możliwości dostosowania
Ustawienia waporyzatora Air Max dają Ci pełną kontrolę, pozwalającą na dostosowanie sesji do własnych potrzeb. Możesz dostosować powiadomienia dźwiękowe lub wyłączyć głośność, a także określić, jak długo należy trzymać przycisk, aby włączyć sprzęt. Możliwe jest także ustawienie jasności ekranu, przełączanie pomiędzy stopniem Fahrenheita i Celsjusza oraz zmiana czasu trwania sesji w odstępach 1 minutowych pomiędzy 5 a 15 minutami.
Istnieją również dwa tryby, dla których można wprowadzić oddzielne ustawienia - Normal Mode i Dark Mode. Po włączeniu trybu ciemnego, na wyświetlaczu pojawią się małe, słabo podświetlone symbole wskazujące status urządzenia. Sprzęt idealnie nadaje się do dyskretnych sesji nocnych!
Większa i mocniejsza bateria
Dzięki Air Max nigdy nie zostaniesz bez mocy podczas długich sesji. Akumulator 26650 o dużej pojemności, który można wyjąć i wymienić, zapewnia do 2 godzin użytkowania na jednym ładowaniu, czyli o 40 minut więcej niż Arizer Air 2. Posiada on również funkcję szybkiego ładowania przez USB-C (do 90% naładowania w zaledwie 2 godziny!). Jeśli zapomnisz naładować baterię przed swoją sesją, nie musisz się martwić, ponieważ Air Max może być używany podczas ładowania.
Gotowy do użycia z fajkami wodnymi
Jeśli chcesz uzyskać jeszcze gładszą parę, to dzięki Air Max jest to łatwe, ponieważ w zestawie znajduje się adapter do fajki wodnej z matowego szkła, który pozwala na bezproblemowe korzystanie z ulubionych szklanych dodatków. Rozmiar złącza wynoszący 14 mm pasuje do większości fajek, a ekran z funkcją auto-inwersji sprawia, że odczytanie obrazu z ekranu jest łatwe - niezależnie od tego, czy jest on odwrócony do góry nogami, czy nie!
Gwarancja
Elektronika urządzenia Arizer Air Max objęta jest 3-letnią gwarancją, natomiast ceramiczny element grzewczy objęty jest gwarancją dożywotnią.
Instrukcja obsługi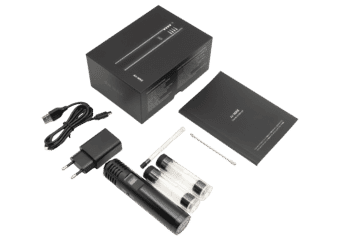 Zawartość
Waporyzator Arizer Air Max
Bateria 26650
Szklana rurka (70 mm) z nasadką
Rurka z matowego szkła z nasadką (adapter do fajki wodnej)
Miska do aromaterapii
Ładowarka USB-C
Narzędzie do mieszania
Sitka (4)
Rurki podróżne z PVC (3)
Instrukcja obsługi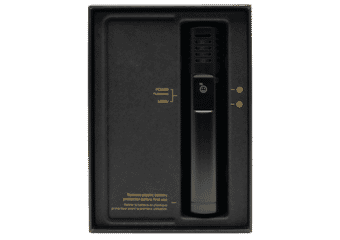 Parametry
Więcej informacji

| | |
| --- | --- |
| Wymiary | 12,8 × 3 cm |
| Waga: | 160 g |
| Podgrzewanie: | Hybrydowe (Konwekcja + Kondukcja) |
| Czas nagrzewania | 1 minuta |
| Źródło zasilania: | Bateria (5500 mAh) |
| Temperatura: | 50°C do 220°C |
| Producent: | Arizer |
| Gwarancja: | 3 lata |
| Kraj producenta: | Kanada |
Napisz własną opinię o Arizer Air Max