Cechy
Najnowsza wersja! (2023.11)
Kapsuła dozująca
Może waporyzować woski (wax), zioła i olejki
Pięć regulowanych przepływów poziomu powietrza
Wymienna bateria
Szybki czas nagrzewania (mniej niż 1 minuta)
1 godzina pracy na pełnym naładowaniu (6 do 8 sesji)
Smart Path (inteligentny przepływ) i w pełni cyfrowe ustawienia temperatury
Tryb Boost i Stealth
10 lat gwarancji
DaVinci IQ2 - dla kogo?
Jeśli szukasz przenośnego waporyzatora z najnowszą technologią, która może waporyzować zarówno zioła, jak i koncentraty, powinieneś rozważyć właśnie DaVinci IQ2. Jest on nieco większy niż jego poprzednik, DaVinci IQ, ale ma kilka nowych przydatnych funkcji, takich jak regulowany poziom przepływu powietrza i kontrola dawkowania. Jest idealny dla użytkowników medycznych, którzy mogą potrzebować dokładnych dawek. Waporyzator posiada wymienną baterię, która wystarcza na 8 sesji na jednym ładowaniu, co oznacza, że DaVinci IQ2 ​​jest dobrym wyborem dla osób ceniących sobie mobilność i waporyzację poza domem.
Kontrola dawkowania
Kontrola dawkowania to najnowsza innowacja firmy DaVinci Technologies, dzięki której możesz mieć pełną kontrolę nad tym, ile waporyzujesz. Jest to bardzo ważna funkcja, jeśli chcesz uzyskać spójne wyniki podczas każdej sesji. Wystarczy, że wprowadzisz siłę szczepu i ilość posiadanego materiału (ziół lub koncentratu), który umieściłeś w podgrzewaczu, a urządzenie DaVinci IQ2 będzie śledzić i raportować dawkę na pobranie i sesję. Jeśli uzyskasz dostęp do aplikacji [obecnie tylko na Android], możesz nawet ustawić maksymalną dawkę, która po osiągnięciu danego poziomu wyzwoli alert.
Regulowany przepływ powietrza
DaVinci IQ2 umożliwia regulację przepływu powietrza za pomocą nowego systemu Air Dial™, który pozwala wybrać, jak gęsta ma być para. Jeśli wolisz chłodną parę, zwiększ przepływ powietrza, a jeśli wolisz gęstszą parę, zmniejsz przepływ. W sumie istnieje pięć ustawień pokrętła, z którymi możesz eksperymentować, aby znaleźć parę najlepiej pasującą do Twojego stylu.
Zawsze najlepszy smak
DaVinci IQ2 nagrzewa się w mniej niż minutę, co oznacza, że ​​nigdy nie będziesz musiał długo czekać, gdy najdzie Cię ochota, by oddać się waporyzacji. Włóż podkładkę dozującą (do 0,2 g) lub połóż swój materiał bezpośrednio na podgrzewacz z możliwością regulacji (do 0,5 g) i rozpocznij proces podgrzewania. Para po wytworzeniu przechodzi przez ceramiczną ścieżkę powietrza, co w połączeniu z cyrkonem i podgrzewaczem wyłożonym szkłem zapewnia jej wyjątkową czystość i smak.
Wymienna bateria
DaVinci IQ2 został wyposażony w akumulator Li-Ion 18650 o pojemności 3000 mAh, taki sam jak w oryginalnym DaVinci IQ. W pełni naładowana bateria zapewnia godzinę solidnej waporyzacji, czyli starcza na około 6 do 8 sesji. Ponieważ bateria jest wymienna, możesz ją łatwo wymienić na zapasową tak, by Twoje sesje trwały dłużej. Ładowanie baterii przez micro-USB trwa 6 godzin, ale tylko 3 godziny za pomocą zewnętrznej ładowarki (brak w zestawie).
Funkcje
Za pomocą przycisków można uruchomić dwa tryby, aby dostosować zachowanie DaVinci IQ2:
Tryb Stealth - przyciemnia diody LED z przodu urządzenia.
Tryb Boost - szybko podnosi temperaturę w podgrzewaczu do 220°C.
Istnieją również dwie możliwości ustawienia temperatury DaVinci IQ2:
Tryb Precision - ustaw żądaną temperaturę, a DaVinci IQ2 będzie ją utrzymywać
Smart path - stopniowo zwiększaj temperaturę, wybierz jedną z czterech wstępnie ustawionych inteligentnych ścieżek lub dostosuj własną za pomocą aplikacji.
Gwarancja
Wszystkie waporyzatory DaVinci IQ2 sprzedawane przez MagicVaporizers - autoryzowanego dystrybutora DaVinci - są w pełni autentyczne i objęte 10-letnią gwarancją na urządzenie oraz roczną gwarancją na baterię.
Instrukcja obsługi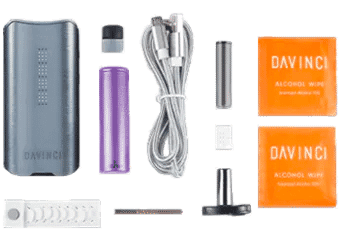 Zawartość
Waporyzator DaVinci IQ
Bateria
Ustnik (10 mm)
Kabel ładowania USB
Narzędzie do załadowania
Kapsuła dozująca
Wkład na koncentraty
Bawełniane waciki (9)
Ściereczki nasączone alkoholem (9)
Instrukcja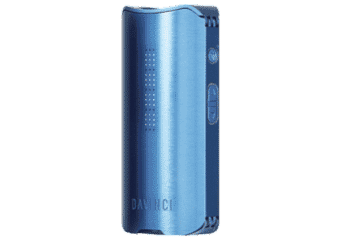 Parametry
Więcej informacji

| | |
| --- | --- |
| Wymiary | 4,5 cm x 2,5 cm x 9,2 cm |
| Waga: | 159 g |
| Podgrzewanie: | Kondukcja |
| Czas nagrzewania | 60 sekund |
| Źródło zasilania: | Bateria (3500 mAh) |
| Temperatura: | 121°C do 221°C |
| Producent: | DaVinci |
| Gwarancja: | 10 lat |
| Kraj producenta: | Chiny |
DaVinci IQC

Wyjmowana bateria 3000 mAh
Precyzyjna kontrola temperatury (0 °C do 221 °C)
Ładuje się w 2 godziny przez USB-C

DaVinci MIQRO-C

3 tryby: Precision, Smart Path i Boost
Dostosowywalny rozmiar komory (0,1 – 0,25 g)
Wymienna bateria (900 mAh)
Napisz własną opinię o DaVinci IQ2